All fire doors in one place

There is no single solution to protect people and buildings from the damage of fire, smoke and burglary. It is an ever-changing range of solutions, based on the choices and wishes of building owners and architects. But for now, let's keep it simple and just look at the product that will ultimately protect you. The choice is then already quite wide.
Will it be a fire-resistant roller screen, rolling shutter or sliding door? Or perhaps a smoke-resistant roller screen offers the desired protection. How do you make the right choice? I get this question a lot from our customers. I've listed the different types, which will probably make it a lot easier for you.
Fire-resistant roller screen
The use of coated industrial textile is one of the most striking features of fire-resistant curtains. The material has many advantages. Of course, it offers long-term protection against flames. Depending on the type of cloth, you can minimize heat radiation and temperature. Due to the use of materials, the curtains require only a small installation space and little side space. They are also lightweight, so they do not require a maximum wall construction. Fire curtains are 'waiting doors', which means they only close in case of a fire alarm. Most of the time the passage is open and you don't even notice that any protection is present.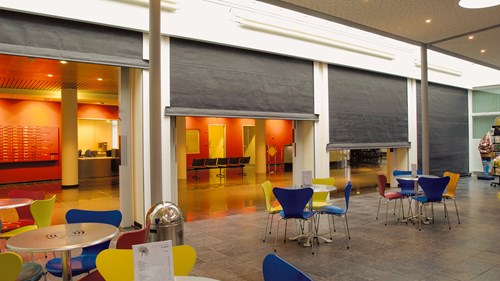 Fire-resistant rolling shutter
I often advise rolling shutters if it is desirable or necessary to make a space fireproof as well as physically seal it off. The base material is two layers of steel, with insulating material in between. As with fire curtains, the door is rolled up, waiting, above the door opening. The casing can be mounted visibly, but it can also be concealed above a suspended ceiling. This makes a rolling shutter applicable in offices, industrial spaces, and logistics processing areas. Hoefnagels Fire Safety also has a version of its fire-resistant rolling shutter which is burglary-resistant up to class RC4.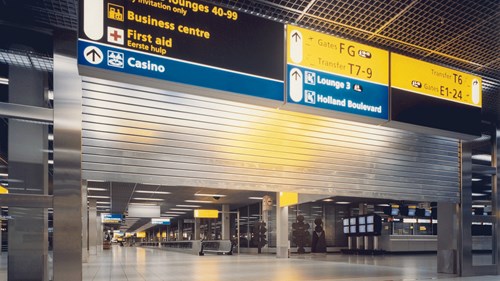 Fire-resistant sliding door
Fire-resistant sliding doors move to the side and in some cases even upwards in an upright position. They can be mounted in plain sight. With a baked-on finish, they have a sleek, industrial look, but with flat panels they look a lot friendlier. Sliding doors mounted in a double wall are frequently used in museums where fire doors do not have to be in the spotlight. They can also be used in offices, industrial spaces, and public buildings. These sliding doors can be fitted with an escape door.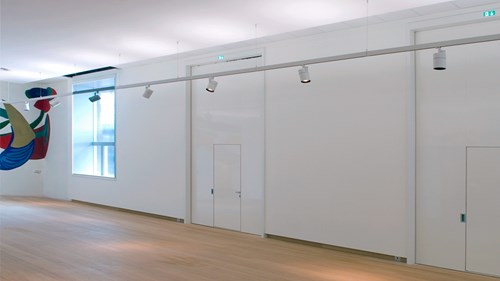 Smoke-resistant roller screen
Smoke curtains come in two types, and both are made of industrial textile. One covers the full width of an opening. The other version has wide overlapping strips, so that the curtain does not obstruct the passage and serves as an escape route. The advantage is that they require little installation space and have no side guides. These curtains can also be placed in a corner setup.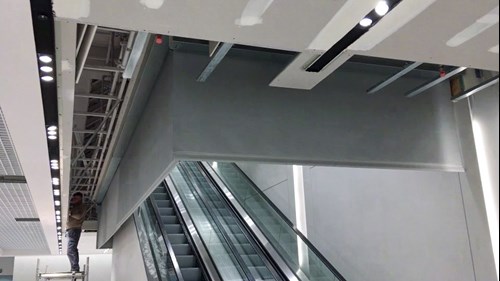 There's a lot to say about fire safety. Choosing the right type of curtain or door is just one part of it. Fortunately, you're not alone. Feel free to contact us if you have any questions. We are ready to help you with all the products I have mentioned above. But also with appropriate advice and practical services.

;